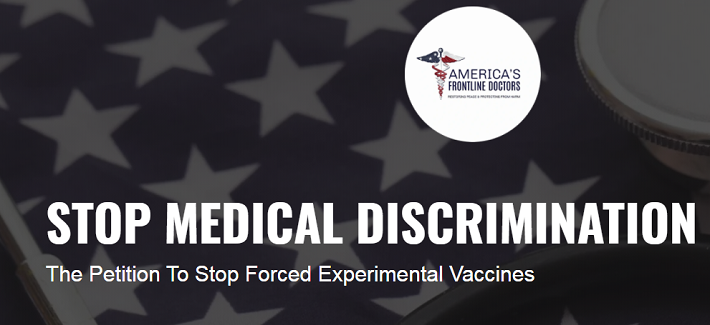 Our friends at America's Frontline Doctors (AFLDS) have launched a critical campaign to prevent the permanent loss of basic human rights.

We truly need every person possible to SIGN and SHARE the SMD – Stop Medical Discrimination – petition at StopMedicalDiscrimination.org in order to prevent the general public from being pressured and coerced into injecting experimental vaccines or otherwise taking medical treatments without their own unforced consent.
AFLDS has produced a fully indexed White Paper on the Experimental COVID vaccines, also available at SMDpetition.org (scroll down after clicking on the link).

And, AFLDS physicians will provide this comprehensive and evidence-based scientific information, along with each and every signature gathered by the SMD petition, to apply pressure on both government and corporate decision makers, encouraging them to understand the potential risk factors and the need for respecting individual medical privacy and equality.

Thank you for supporting this crucial medical freedom campaign, launched by America's Frontline Doctors.