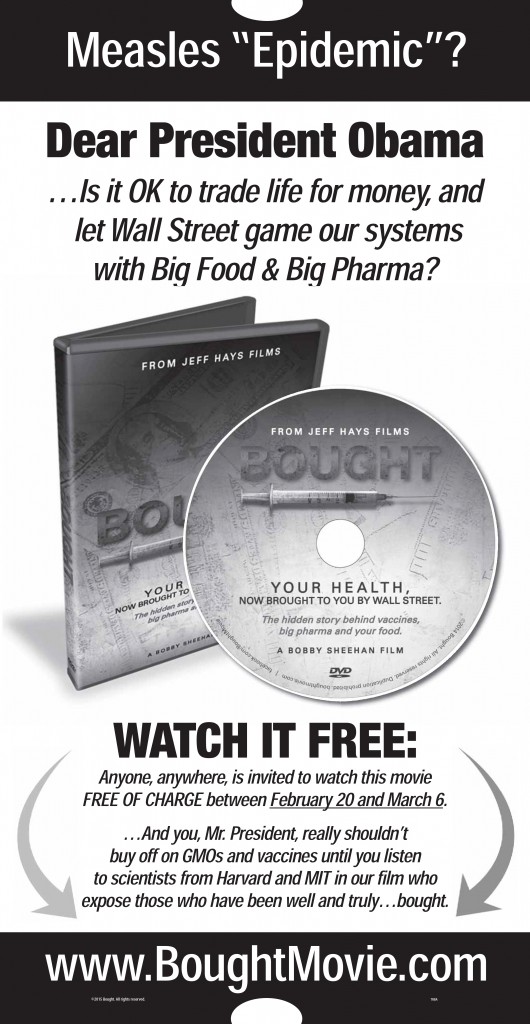 Watch Bought Movie free online Feburary 20th through March 6th.
The food, vaccine, drug, insurance and health industry are a multi-BILLION dollar enterprise… focused more on profits than human lives. The BOUGHT documentary takes viewers deep "inside the guts" of this despicable conspiracy…
Featuring exclusive interviews with the world's most acclaimed experts in research, medicine, holistic care and natural health… Bought exposes the hidden (and deadly) story behind it all.
Every single day — for weeks now — the Wall Street Journal has featured articles about measles, the imperative to vaccinate, and the societal problem of delayers and refusers. President Obama told parents on NBC's Today show: "There is every reason to get vaccinated and no reasons not to."
Filmmaker Jeff Hays has a response to President Obama and the Wall Street Journal: "Watch my movie.
Look for this ad in the Wall Street Journal on Friday, February 20, 2015
Click on the image or link to watch for free
THEN TWEET @BARACKOBAMA AND @BOUGHTMOVIE:
OUR FOOD AND VACCINES ARE BOUGHT
Watch BOUGHT free from Feb 20 – Mar 6